The underdog batsman Deepak Chahar, the young Indian cricketer, became the social media sensation after he scripted the Indian victory in the second ODI against Sri Lanka which was played at the R. Premdasa Stadium, Colombo on Tuesday. Deepak Chahar has made his presence felt with a match winning performance as he not only scored 69 runs but also took two wickets.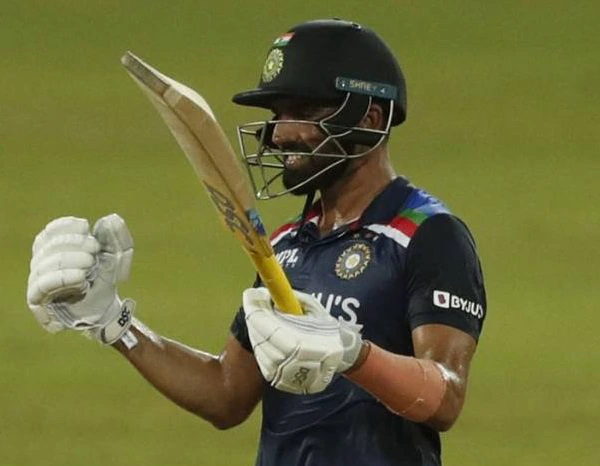 Sri Lanka put up a total of 275/9 but the Indian batting line-up fumbled in the second ODI and there was a time when India was once reeling at 193/7 with 83 runs to chase in 14.5 overs after Krunal Pandya has departed.
Deepak Chahar and Bhuvneshwar Kumar had other ideas and batted sensibly to ensure that India attained victory in the series by winning the second ODI. While Deepak Chahar scored 69 runs not out in his fighting knock for which he faced 82 deliveries which was his highest, Bhuvneshwar Kumar kept the other end secured by playing supportive innings of 19 runs not out in 28 deliveries.
After the win, while many social media users praised Deepak Chahar for his "never say die" attitude, there were some who brought everyone's attention to the new hairstyle of the cricketer.
Deepak Chahar's new hairstyle is quite similar to the hairstyle of a character which was played by Bollywood actor Aamir Khan in the movie Ghajini. Hence, the social media particularly, twitter was full of tweets in praise of his knock with special reference to his Ghajini look.
New look 😈 pic.twitter.com/uVhCp9Ai9P

— Deepak chahar 🇮🇳 (@deepak_chahar9) June 9, 2021
"That character had a medical condition of short-term memory loss because of which he used to forget everything and the online users are saying in a funny spirit that because of his hairstyle, Deepak Chahar forgot that he is a bowler and played a superb innings like a top-order batsman".
Some of the other tweets were reproduced here just for fun:
#1
Deepak Chahar in his Ghajini hairstyle actually forgot that he is a front line bowler😆

What a mad mad knock that was! @deepak_chahar9 🙌#deepakchahar #SLvIND pic.twitter.com/JyUrHIcd3t

— Shreeraj Deshmukh (@ShreeSpeaks_11) July 21, 2021
#2
LHS = RHS 🥳💥 That look and the result … there's a reason y @deepak_chahar9 changed his look! Isn't that? 😜🇮🇳🤝 #deepakchahar #INDvSL Tailenders ?? Not anymore!! GameChangers 💥🔥 pic.twitter.com/gWY4tZcNXs

— Zaarah Sharath (@imZaarah1) July 21, 2021
#3
🤲🏻👑 pic.twitter.com/fUbSN3COBK

— Veroit Cuhli 🇮🇳 (@ImVcuhli) July 20, 2021
#4
Sri Lanka never had a chance https://t.co/YKOtJg9vcJ

— Melo (@fcbnjeyy) July 20, 2021
#5
THE GAME WAS OVER JUST AFTER HE POSTED THIS. https://t.co/lC9tGkR5nx

— Archit. (@forviratsake) July 20, 2021
#6
Villen played a role of hero❣️#INDvsSL #deepakchahar pic.twitter.com/rFZFWXTYoP

— ABHAY RAJ SINGH (@preetabhayraj) July 20, 2021
#7
he was ready to pull of something special the day he decided to get this haircut https://t.co/yGH72dohv2

— diya♡ (@arziyaaaan) July 20, 2021
The third and the final ODI of the series will be played on July 23 and while the Indians will hope to make a clean sweep, the Sri Lankans will certainly try their best to salvage some pride by giving enough fight to win this match on their own home turf.